Holiday Catering Solutions

When fall arrives, football starts and pumpkin flavors begin to appear. We begin to daydream about the most delicious holiday of the year: Thanksgiving!  
Make it easy this year
Whether you plan to cook an entire feast for your family and friends, or enjoying someone else's cooking, Smokin Steve's Catering can help out.  Your time is valuable and your days off are few, so Relax and Enjoy your own Party!!!  
Available for small dinner parties of 8-12 or our buffet for 12 -1200 guests.
Order your delicious Smoked Turkey Dinner today
Our moist flavorful turkeys have become a tradition with many of our customers.  I enjoy seeing the same faces year after year!  It makes my holiday special to be a part of so many celebrations.  Enjoy your holiday!  Pick-up a delicious smoked turkey dinner from Smokin Steve's Catering during November & December.  A real time saver, stress free, AND it will impress the most critical people in your life!  
Conveniently located 1 block from the 118 freeway.  And, we will be open Thanksgiving morning 10am-1pm for easy pick-up.
Order yours by November 21st 2019.  Call today 805-520-0601  or  Fill out contact form for email
During November and December, we are featuring our Turkey Dinner Package.  It feeds 8-12 people and includes…
Order yours by November 21st 2019.  Call today 805-520-0601  or  Fill out contact form for email
Just need Sides?  Just the Turkey?  You got it, we can help! 
All of our delicious sides come in pan sizes for 12 (1/4 pan), 20 (1/2 pan), or 45 guests (full size pan).
During the holidays, our full BBQ menu is still available.  Nothing says happy holidays like a Rack of Ribs or our Smoked Sausage!
Whether you are having a traditional holiday dinner, or just a Harvest get together with coworkers, let Smokin Steve's Pit BBQ Catering take out the work and leave you with more time to spend with your family, loved ones and guests!
Call us today at 805-520-0601 or go online to www.smokinsteves.com for easy online ordering.  Need help ordering online?  Go here.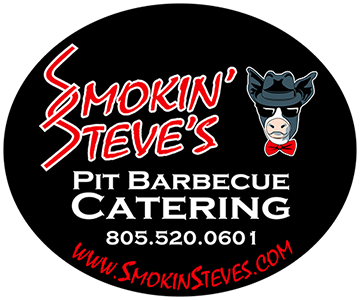 Smokin Steve's Pit BBQ Catering
Thanks for reading. Re-Opt-In Now 
 We are cleaning up our email list. Please Re-Subscribe by clicking here
---
To stop receiving emails from us, click here to opt-out.
Smokin' Steve's Pit BBQ Catering, 14711 Princeton Ave STE 14, Moorpark, CA 93021